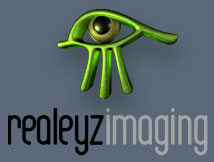 Our venture into the world of DVD themes began after discovering the amazing possibilities of iDVD not only as a DVD authoring tool, but as a compositing platform. We dove right in and crafted a number of great Themes for users everywhere. The natural progression has been into newer more professional DVD authoring applications like DVD Studio Pro and Adobe DVD Encore,

We offer a wide variety of other creative work including 3D animation, DVD authoring, graphics, interface & web development, illustration, and video game production. You can view samples of our work here:

www.realeyz.com

My name is Todd Siechen. Please let me know how I can be of service to you. Contact me here.